---
News and Announcements: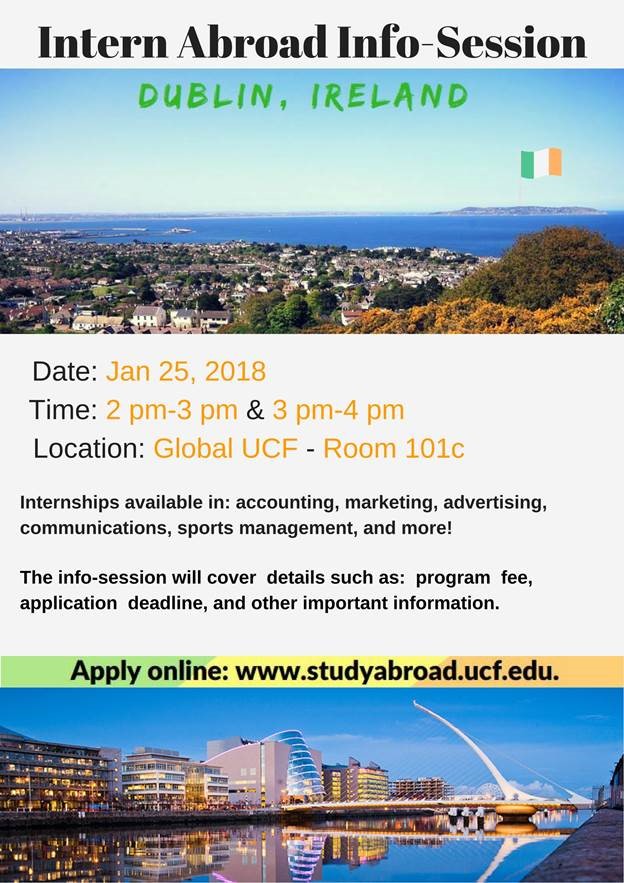 Internships in Dublin and London FOR ALL MAJORS!


UCF Abroad is pleased to offer an information session, in partnership with Career Services and Experiential Learning, on summer internship opportunities in Dublin and London. This information session will be in the UCF Global Building, Room 101, on Thursday 25 January at 2:00-3:00 and 3:00-4:00. Please consider attending one of the sessions to learn about you opportunity to gain valuable work experience abroad.

SUMMER SCHOLARSHIP APPLICATIONS HAVE NOW OPENED!

If you are applying for a summer program than you should absolutely apply to one of the scholarship opportunities that have just opened:

UCF Abroad Scholarship- Need Based
Austin Fragomen Study Abroad Scholarship
Marjorie Tyler International Scholarship

Visit our Scholarships page for more information and to apply!



Australia and New Zealand SCHOLARSHIP OPPORTUNITIES

UCF Abroad is excited to announce new scholarships available for students seeking to study abroad in Australia or New Zealand. The best part? ALL students applying to select programs will receive an AUTOMATIC scholarship!

For more information check out the flyers below:
UCF in Australia
UCF in New Zealand

Please reach out to oliver.mcsurley@ucf.edu with any questions!

Interested in learning more about studying abroad? Come to one of our scheduled information sessions. We offer two opportunities to begin your planning;



Study Abroad 101- Learn more about the steps to studying abroad and where to start.

Financing Study Abroad- Learn the basics of financial planning and strategy building for studying abroad.

For a full list of info sessions, please visit the UCF Global homepage.