Arrange Your Finances
Study Abroad Can Be Cost-Effective
Studying abroad is an investment in your future. With careful planning and strategic program selection, you can take advantage of an affordable and fulfilling academic experience abroad without breaking the bank.
Planning Ahead
CALCULATE CURRENT COSTS
Using the
Budget Worksheet
, calculate all of your current on-campus costs. To determine your annual budget, add up your rent, meals, tuition and fees, travel expenses, entertainment, books, supplies, etc.
The Office of Student Financial Assistance
calculates that the average in-state UCF student spends approximately $21,840 per year on tuition and fees, books, room & board, transportation, and personal expenses. Use this as a baseline for comparison of costs abroad, but keep in mind the cost of living at the study abroad location could be more or less than what you're presently spending.
CHECK PROGRAM INFORMATION
If you are applying for a UCF program, check the relevant program information page to forecast program participation expenses. Items included in the program fee for both Exchange and UCF Faculty-led programs are listed in each program's information sheet. If you are participating on a partner program, review the relevant webpages associated with that program to understand both the program costs and inclusions.
It will be helpful to plan for these primary costs:
$350 Study Abroad Fee
UCF or host institution tuition
Flight
Passport/Visa (if necessary)
Housing
Meals
Incidentals
Books and Supplies
*Please note that all UCF students are automatically enrolled in a Travel Assistance Policy as a study abroad student. This policy provides emergency health and safety resources and more can be learned
here
.
DETERMINE YOUR NEEDS
Determine your needs and interests. Compare the features and costs of various programs to find the best match. Various factors that influence the total cost of participating in a study abroad program include:
location
number of credits taken
local cost of living
timing (high tourist season vs. low tourist season) and length of program
international and on-site transportation
the type of program
Remember that factors like program location can often be a powerful way to manipulate your program budget to make expenses more reasonable. Many of the most popular study abroad destinations are also the most expensive
.
Receiving Financial Aid
Financial assistance is available when students make appropriate arrangements with UCF's Office of Student Financial Assistance.
If you are not currently receiving financial aid, you may apply for aid by completing a Free Application for Federal Student Aid (FAFSA).
If you currently receive financial aid, you must first apply to a study abroad program before it can be determined how your aid will transfer toward the experience. Once accepted into your program you will work with the UCF Abroad office to complete an accurate program cost forecast which the Office of Student Financial Services will then use to determine which aid can be made applicable to your experience. Please see below for a graphic that explains this process.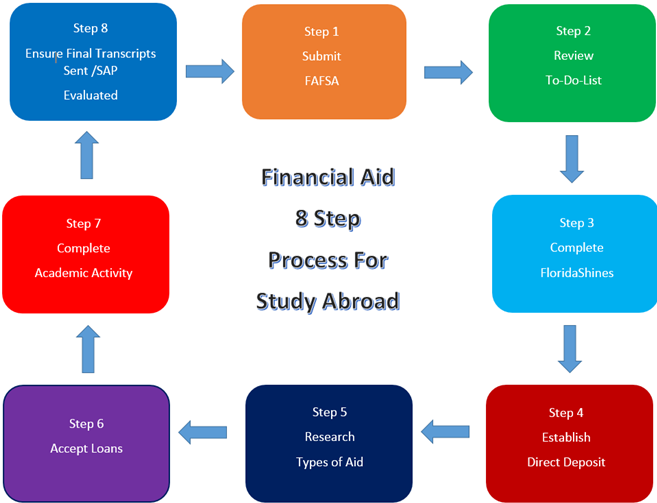 It's important to discuss with a Financial Aid Adviser how your use of financial aid funds for studying abroad may (or may not) affect your financial aid package needed to pay for subsequent semesters!
Important Information on Processing of Aid
Please note that the Office of Student Financial Assistance is the key point of contact for questions and inquiries regarding financial aid and it's applicability to a study abroad experience. Those students with questions should email SFAstudyabroad@ucf.edu to set up an appointment with Ms. Karissa Lawson-Harris to learn more.

In general, for financial aid to transfer to your program it may require the completion of additional forms to verify enrollment while abroad. Here are some important points to consider, especially for students participating on partner programs (those not offered by UCF or another Florida institution):
Students should also complete the Transient Notification Form for Financial Aid, available here- http://finaid.ucf.edu/forms/1617_forms.html

If you are taking classes transiently (not UCF courses), your aid will be processed after the Host University's Fall Add/Drop period and will require additional processing at that time. As such, your total aid for the term MAY not be disbursed until mid-term.

Depending on the program and your individual circumstances, the Office of Financial Assistance may be able to arrange for an advance on your financial aid so that you can receive a portion of your aid before your departure to help pay for the costs of the program. If you are interested in this option, you should contact the Ms. Harris-Lawson in the Financial Assistance Office directly.

After the host university's add/drop period, the university should complete the remaining portion of your Consortium Agreement form (found here- http://finaid.ucf.edu/forms/1617_forms.html) to verify your course enrollment. Once your enrollment is verified, your final aid can then be processed.