Introducing the UCF International Center Program in Barcelona
Study Spanish Language or Health Sciences for 4 weeks in Summer 2022
Additional course options available
More details here
Apply here
Apply for a Barcelona Center scholarship here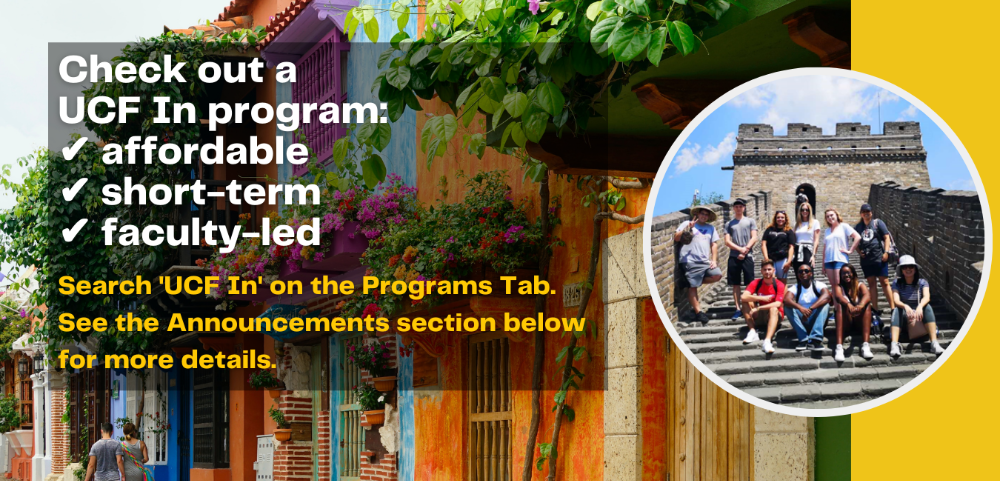 Contact Us
UCF Abroad is located in:
Trevor Colbourn Hall, Suite 205 - HIP Hub
12796 Aquarius Agora Dr.
Orlando, FL 32816
(2nd floor, turn right from the elevators)
To schedule your first appointment, please complete an
Interest Form
or email us with any questions at
studyabroad@ucf.edu.
Phone: 407-882-2300
---
Start Here
Ready to start your study abroad journey? Visit our Start Here page.

Study Abroad 101
Interested in learning more about studying abroad? Register below to attend a live Zoom session -OR-
Watch our online Study Abroad 101 Session on our YouTube Channel
Advising Appointments
First Time Advising:
Please fill out an Interest Form on our Next Steps Page!

Follow-up Advising and General Inquiries:
UCF Exchange Programs: Please email Ms. Daren Caine at Daren.Caine@ucf.edu
UCF in, Partner Programs, Internships: Attend an Ask Me Anything session below or email your assigned advisor.
General Inquiries: Please email studyabroad@ucf.edu

***
UCF Abroad Calendar of Events
We hold workshops covering various topics and for our different program types throughout the semester. Please check our calendar of events below!

Date
Time
Event Type
ZOOM
12/1/21
2PM - 3PM
Study Abroad 101
(College of Engineering & Computer Science Students)

Register Here!
---
Announcements
COVID-19 & Study Abroad Participation Statement (9/2/2021)

The University of Central Florida and UCF Abroad do not require vaccination against COVID-19 as a pre-condition for participation in study abroad programs. However, it should be noted that study abroad students have always been, and continue to be, subject to the entrance protocols and requirements of host countries in order to participate in study abroad programs. It is possible, perhaps likely, that the host nations for our study abroad programs will require international travelers to show proof of vaccination and applicants to our study abroad programs must comply with such requirements, if they wish to participate in the program.

The entry requirements pertaining to COVID-19 vary by destination and are constantly changing. Students applying to study abroad should be prepared to be flexible and must be willing to comply with all entrance requirements and regulations of program host destinations, if they wish to participate in the program.

Many of our programs are planning to visit countries that are currently requiring vaccination, for example: Costa Rica, Croatia, Czech Republic, France, Germany, Greece, Italy, Ireland, Mexico, and so on.

In addition, certain countries may impose a travel ban to their respective countries from the US, in which case, the study abroad program at issue, may have to be cancelled.

---

Subject: UCF in Programs for the Spring and Summer of 2022 (7/8/21)
Program brochures are now available for "UCF In" or Faculty-led programs on the "Programs - Apply Here" tab!
Additionally, you can see a list of available programs by following this link:
Applications are currently open!
Interested students should contact the faculty member leading their desired program for more information, and complete a preliminary application interview.
Faculty leader contact emails are displayed at the bottom of the 'Program Details' header in the program brochure.
---
Subject: New Pre-Approved Partner Program Opportunities for Students in the College of Business Administration.
The College of Business Administration has approved additional study abroad program opportunities. These new programs offer pre-approved coursework in new locations during both he fall/spring and summer terms. Students will now be able to study overseas at the following institutions:
Singapore Management University (Singapore)
Korea University (Seoul, South Korea)
Victoria University of Wellington (Wellington, New Zealand)
University of Sydney (Sydney, Australia)
Mahidol University (Bangkok, Thailand)
Stellenbosch University (Stellenbosch, South Africa)
Esade University Summer Program (Barcelona, Spain)
For more information review the linked brochure below:
COBA Approved Partner Programs
Email
oliver.mcsurley@ucf.edu
with any questions
---
Subject: Flexibility of Program Selection due to COVID-19 Implications
All applicants are advised to make note of the following important considerations regarding international COVID-19 policies which can be amended with short notice:
1) All students are encouraged to remain flexible with their study abroad plans. Due to ongoing uncertainty created by the COVID-19 pandemic, program operation statuses may change unexpectedly. Students should proactively stay informed regarding their program's cancelation and withdrawal policies as well as participation deferment options.
2) All students should be aware of the eligibility requirements for program participation and scholarship award disbursement, as they can vary from country to country.
Students can verify U.S. Department of State Travel Advisories
by clicking this link
.
---
Subject: Welcome to the New Student Applicant UI! (11/25/20)

We have finished updating our website! Welcome to the new look and feel of the Terra Dotta application/registration system for international travel. Please

review this PDF here

to see an overview of how your application will look in the new interface.