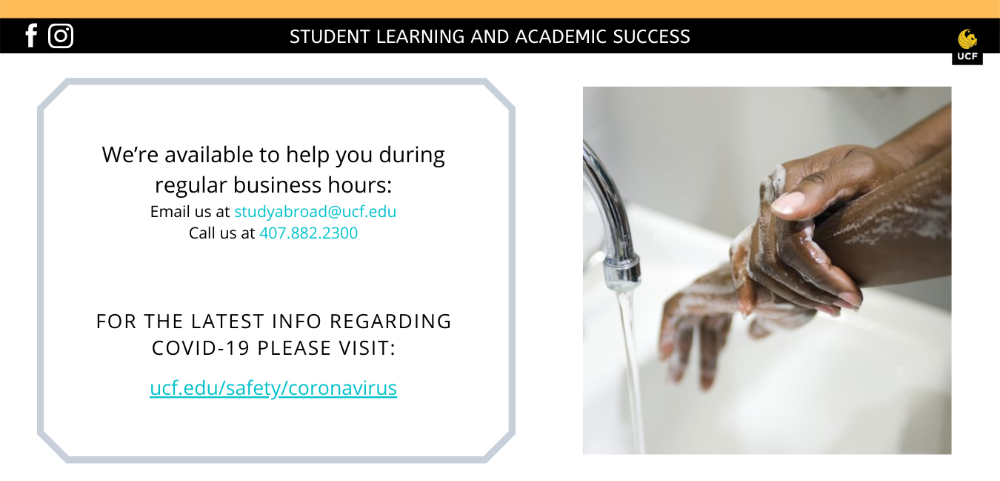 Announcements
Subject: ALERT: In-Person Visits Suspended 3/13/2020

UCF Abroad has suspended in-person meetings and walk-ins until further notice. Scheduled phone advising appointments will take place as planned, and in-person meetings will take place by phone. If you are a student or faculty member impacted by the cancellation of study abroad trips in spring and summer 2020, a member of the UCF Abroad team will contact you. We're here to support you! If you have questions, please call us at 407-882-2300 or email us at studyabroad.ucf.edu.

As guidance from the state changes, the university will share new information about travel restrictions via email and the UCF coronavirus website.

---

Subject: UCF Global Official Coronavirus Statement 2/27/2020

UCF Global is closely monitoring the global outbreak of the coronavirus and how it may affect students, faculty, and staff traveling abroad. Per university policy, UCF Global restricts travel to any country or region designated by the Center for Disease and Control as a Level 3 or by the Department of State level 3 or 4. If you have any questions regarding this information, please visit https://global.ucf.edu/international-health-and-safety/restricted-travel/ or contact intlsafety@ucf.edu.


***
UCF Abroad Calendar of Events
Study Abroad 101 Sessions
Interested in learning more about studying abroad? Come to one of our scheduled information sessions to learn more information and how you can get started. This info session is for students only. Please RSVP as spots are limited.
RSVP Here

Application Workshops
We hold application workshops for our various program types throughout the semester. If you would like to learn more about the application process and our specific program types ("UCF in...", Partner programs, and Exchange programs) please check our calendar of events and RSVP below!
RSVP Here