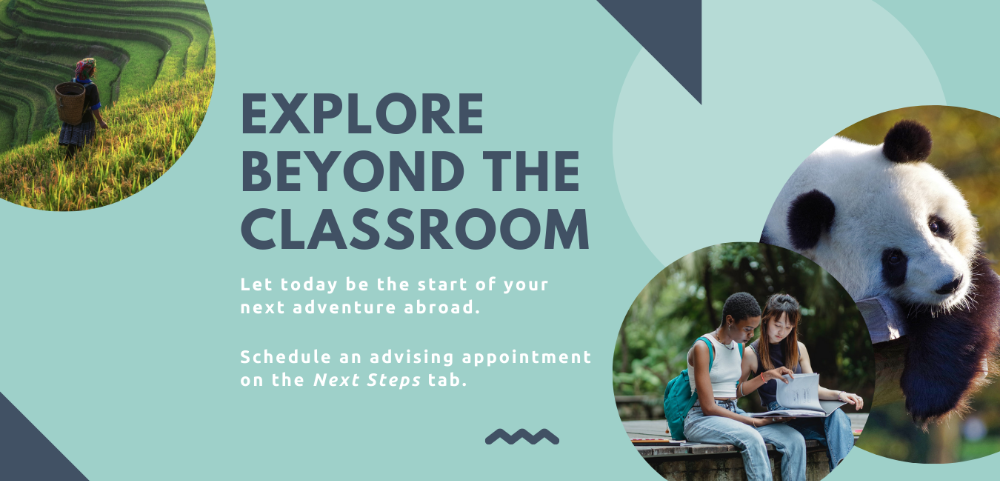 UCF Abroad Calendar of Events
Study Abroad 101 Sessions
Interested in learning more about studying abroad? Watch our online Study Abroad 101 Session on our

YouTube Channel
-OR-
Register for a session below to attend a Zoom session!
Advising Appointments
Are you ready for your first advising appointment? Fill out an interest form here!
For follow-up advising and general inquiries, please view the Meet Our Team page or email us at studyabroad@ucf.edu

Workshops
We hold workshops covering various topics and for our different program types throughout the semester. Please check our calendar of events below!

***
Announcements
Subject: New Pre-Approved Partner Program Opportunities for Students in the College of Business Administration.
The College of Business Administration has approved additional study abroad program opportunities. These new programs offer pre-approved coursework in new locations during both he fall/spring and summer terms. Students will now be able to study overseas at the following institutions:
Singapore Management University (Singapore)
Korea University (Seoul, South Korea)
Victoria University of Wellington (Wellington, New Zealand)
University of Sydney (Sydney, Australia)
Mahidol University (Bangkok, Thailand)
Stellenbosch University (Stellenbosch, South Africa)
Esade University (Barcelona, Spain)
For more information review the linked brochure below:
COBA Approved Partner Programs
Email
oliver.mcsurley@ucf.edu
with any questions
---
Subject: Notice of Summer and Fall Partner Program Application Acceptance Deadline Extension
UCF Abroad has extended the application acceptance deadline for all Summer and Fall 2021 partner programs
from February 15 to March 15
. The purpose of this deadline extension is to grant students more time to consider their best program options and to more thoroughly prepare for their time overseas. All applicants are advised to make note of the following important considerations:
1) Although UCF Abroad is extending our own application deadline, partner organizations will also have their own deadlines that should be taken into consideration. Students should confirm the application deadline with the partner sponsoring the program as well.
2) All students are encouraged to remain flexible with their study abroad plans. Due to ongoing uncertainty created by the Covid-19 pandemic program operation statuses may change unexpectedly. Students should proactively stay informed regarding their program's cancelation and withdraw policies as well as participation deferment options.
---
Subject: Welcome to the New Student Applicant UI! (11/25/20)
We have finished updating our website! Welcome to the new look and feel of the Terra Dotta application/registration system for international travel. Please
review this PDF here
to see an overview of how your application will look in the new interface.
---
Subject: ALERT: In-Person Visits Suspended (4/13/20)
UCF Abroad has suspended in-person meetings and walk-ins until further notice. Scheduled phone advising appointments will take place as planned, and in-person meetings will take place by phone. If you are a student or faculty member impacted by the cancellation of study abroad trips in spring and summer 2020, a member of the UCF Abroad team will contact you. We're here to support you! If you have questions, please call us at 407-882-2300 or email us at studyabroad.ucf.edu.