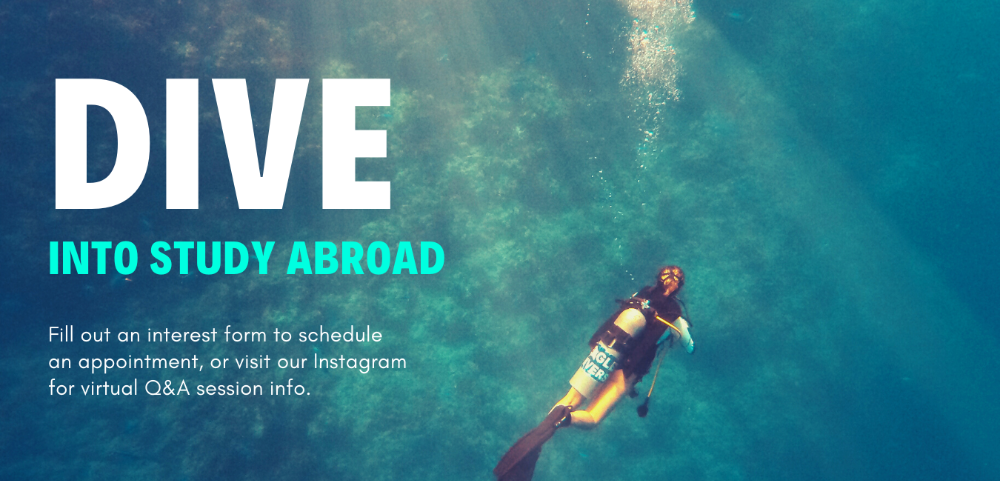 Announcements
Subject: Faculty-Led Study Abroad Programming for Academic Year 2020-2021 (4/15/20)

To all faculty interested in proposing and leading a study abroad program for AY 2020-2021 please be advised: the university has taken several actions in response to the COVID-19 Coronavirus outbreak that will have implications on study abroad program operations. Because of the travel freeze prohibiting auxiliary-funded travel for next year, UCF Abroad will not be accepting proposals for fall 2020 and spring 2021 faculty-led study abroad programs.

Proposals for faculty-led study abroad programs intended to operate during summer 2021 will still be collected for review. Final endorsement of each proposal will be contingent upon approval from university administration and a lifting of the travel freeze currently in place. Given the evolving nature of the COVID-19 Coronavirus outbreak, there is no deadline for proposals or timeline for feedback on proposed programs.

UCF Abroad will continue to monitor the status of the travel freeze as it relates to study abroad programming and will communicate all developments to faculty proposing programs for next year. We appreciate your support of internationalization here at UCF and look forward to collaborating with you in the future.

Please be aware that it is possible UCF will not lift the travel freeze in time for study abroad programs to operate during summer 2021, given that current restrictions are for an indefinite period of time.

---

Subject: ALERT: In-Person Visits Suspended (4/13/20)

UCF Abroad has suspended in-person meetings and walk-ins until further notice. Scheduled phone advising appointments will take place as planned, and in-person meetings will take place by phone. If you are a student or faculty member impacted by the cancellation of study abroad trips in spring and summer 2020, a member of the UCF Abroad team will contact you. We're here to support you! If you have questions, please call us at 407-882-2300 or email us at studyabroad.ucf.edu.

***
UCF Abroad Calendar of Events
Study Abroad 101 Sessions
Interested in learning more about studying abroad? Watch our online Study Abroad 101 Session on our


Youtube Channel here!

Application Workshops
We hold application workshops for our various program types throughout the semester. If you would like to learn more about the application process and our specific program types ("UCF in...", Partner programs, and Exchange programs) please check our calendar of events below!

| | | | |
| --- | --- | --- | --- |
| Date | Time | Event Type | Location |
| TBD | TBD | TBD - Coming soon! | |