Incoming Exchange Students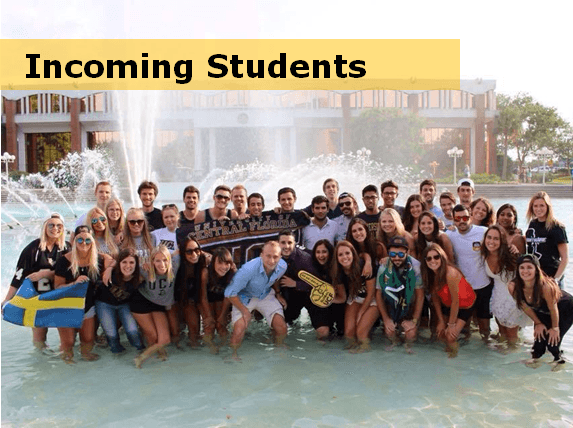 Thank you for your interest in studying abroad at the University of Central Florida! As a UCF Knight, you will not only have the amazing opportunity to work with faculty members who are passionate about stimulating your academic interests and goals, but you will have the chance to be a part of a community where you will form life-long friendships as well! There are a few steps you will need to complete before officially becoming a UCF Knight.


Student Testimonials:
Michaela Augesky, Fall 2015
"UCF has been an amazing host. There are many different events throughout the semester which have been incredibly fun to attend and experience the American student life. UCF's location in Orlando gives you the opportunity to visit famous themeparks like Disney World, Universal, SeaWorld and more. Choosing UCF as my study abroad university has been one of the best decisions I've ever made."
Fatima Khan, Fall 2014 - Spring 2015
UCF has been the most life changing and worthwhile chance I took. Moving from London to Florida is a big change and not once did I question my decision. From the first day we got there; we had so much support and love from student mentors and these people came to be my best friends. The campus is just perfect, the weather, the drive to universal studios; the people from different cultures and the classes have been the most useful out of my whole university degree.It's true what they say; once a knight, always a knight.
Sarah Vauthier, Fall 2014

My semester abroad at UCF was an incredible experience! I had the opportunity to meet amazing people, from native Americans to other Internationals and to discover new cultures. The life on campus is great with access to the gym, the pools, the library and the computer labs. Classes were really interesting and have made a great contribution to obtain my business degree back in France. Orlando is a pleasant city to live and you will not be dissapointed by Florida weather. I would definitely recommend UCF as the university to go!