Our Campus

The University of Central Florida, founded in 1963, is the second-largest university in the nation. Located in Orlando, Florida, UCF and its 13 colleges provide opportunities to 61,000 students, offering 210 degree programs from UCF's main campus, hospitality campus, health sciences campus and its 10 regional locations.

UCF, Florida's largest university, promotes a diverse and inclusive environment. Students come from 50 states and 148 countries. Study abroad programs allow students to study and conduct research with 98 institutions in 36 countries. Students at UCF have been recognized throughout the world and include recipients of the Rhodes, Mellon and Goldwater scholarships.

Our 1,415-acre main campus provides modern facilities, most of which have wireless abilities, with 600 acres set aside for lakes, woodlands, and an arboretum. We believe that a university campus should not only be a place to learn, but a pleasant place to live.

Recreation and Wellness Center

The UCF Recreation and Wellness Center (RWC) comprises many programs, such as Intramural Sports, Sport Clubs, Outdoor Adventure, Fitness, and Aquatics. The RWC is open to all students and offers a vast array of state-of-the-art facilities, includes a custom climbing wall, te
nnis courts, sand volleyball courts, a disc golf course, numerous intramural sports fields, a leisure pool, and an outdoor lap pool.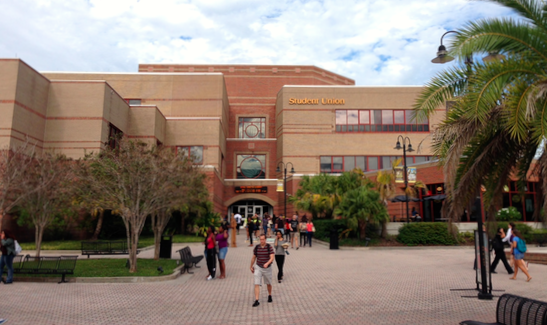 Known as the "Heart of Campus," the Student Union sits at the center of the University of Central Florida's Orlando Campus. Here at the Union we provide space for students, and members of the UCF community to study, socialize, eat, host events, attend meetings, and engage in campus life. Our facility provides a home to many vibrant university departments, access to key student services, and collaborative spaces for
students to connect on campus. In addition, the Union offers over 26,000 square feet of meeting and event space, with the ability to host various campus events, seminars, conferences, banquets, and various other functions.
The Student Union has grown to more than just a building at the center of UCF's campus. Our team strives to provide quality spaces at all ends of campus. In addition to our main facility, the Student Union manages the All Knight Study spaces at both the north and sound end of campus, and the Ferrell Commons Auditorium. As we continue to grow, we strive to deliver high quality service and inclusive, trend setting spaces.
Here at the Student Union we are always learning and growing. We look to strategically deliver new services that add value to the overall UCF experience. That said, our team is always looking to engage in new discussions and explore new ideas. If you have one, reach out and be a part of the conversation here at the heart of campus. All members of our team are always happy to meet with students and campus departments to discuss how we can better serve the UCF community.

Events
| | | |
| --- | --- | --- |
| | | |
| Spirit Splash | Lake Claire | Concerts |
| Spirit splash is our campus tradition that has been recognized as one of the best in the country! Students can take a dip in the reflection pond, earn free prizes, and enjoy special performances by our very own marching band and auxiliary team! This event is held during homecoming week in the fall semester. | Lake Claire is one of the most popular places on campus. It is located at the end of Greek Park Drive, offers an adventure for all types. During boat house hours, students may rent a variety of equipment FREE of charge to enjoy out on the water or in the recreational area. Students can also play beach volleyball and cook on the pavilion grills. | UCF offers concerts FREE of charge to students throughout the semester. Some of past performances include Icona Pop, OneRepublic, Big Sean, Benny Benassi, Timeflies and more. |
| | | |
| --- | --- | --- |
| | | |
| Football Games | Universal Knights | Basketball Games |
| Get a feel of the most popular game in the US. Knights are able to enjoy home games free of charge. All games are on first come first serve basis, so make sure to go early and get a good seat. | Universal Knights is the top event of the Spring semester. Students receive a complimentary ticket for a night of fun at Universal's Island of Adventure. The park hosts a private night for only UCF students. | If you come in the Spring semester, you can enjoy a game of basketball. Come and watch how our knights get excited and show support. |
Rosen College of Hospitality Management

The Rosen College of Hospitality Management is located in the largest, most modern facility ever built for hospitality management. It's also near the world's most famous tourist and entertainment destination, creating opportunities for professional growth. To get started with your career, visit the Rosen College of Hospitality Management.